Coronavirus Virus- Is Motive Profit or Depopulation (or both)?
January 28, 2020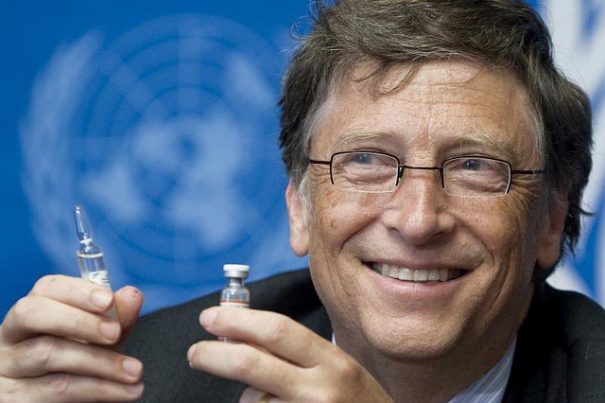 The Bill and Melinda Gates Foundation co-hosted a pandemic exercise in late 2019 that simulated a global coronavirus outbreak.
They also just happen to fund the group who owns the patent to the deadly virus and are working on a vaccine to solve the crisis.
by Hushnews
(henrymakow.com)
On June 19, 2015, the UK government-funded Pirbright Institute filed an application for a patent for the live coronavirus, which was approved on Nov 20, 2018.
Suspiciously, a Pirbright Institute "primary funder" is the Bill and Melinda Gates Foundation.
Specifically, the Bill and Melinda Gates Foundation donated $189,232 to the Pirbright Institute in a 2013 grant looking "to improve our understanding of, and effective use of, current control tools and measures (including vaccines) against peste des petits ruminants and foot and mouth disease, two serious diseases affecting livestock that are widespread in developing countries."
Then, in November of 2019, the Pirbright Institute's website published an article focusing on the Bill & Melinda Gates Foundation's funding of "a Livestock Antibody Hub" to the sum of $5.5 million.
Outbreak Emanates From Chinese City With Controversial Lab
The deadly virus, called the Wuhan coronavirus based on the Chinese city it emanated from, comes just years after a controversial lab was opened in Wuhan to work with the world's most dangerous pathogens.
As of January 15, the virus made its way to America with a man carrying the illness from Wuhan, China to Washington state.
Now, a report out of Texas on Thursday claims officials at the Brazos County Health District are investigating a suspected case of the coronavirus.
At the time of writing this article, the death total has reached 25 and the estimated number of people infected with coronavirus in Wuhan is around 4,000.
Bill and Melinda Gates Foundation Look To Develop Coronavirus Vaccine
But don't worry, the same globalists who own the patent to the virus and predicted its rise are "scrambling to develop vaccines for the deadly Wuhan coronavirus."
According to Business Insider, "A coalition backed by Bill Gates is funding biotechs" who are attempting to develop a coronavirus vaccine.
Is this illness being intentionally spread so governments worldwide can join forces in the name of stopping the virus, or so groups like the Bill and Melinda Gates Foundation can step in and become saviors, or is it all just a massive coincidence?
The good news is internet users are wise to the activities of the Gates' and the global elite's depopulation agenda.
---------
Watch Infowars' special reports on the Wuhan coronavirus and remember to share these censored videos and links to defy the anti-free speech agenda of Big Tech.
YouTube Video on Gates' vaccine-for-profit machinations
--------------------