Putting a Face on the Illuminati
November 25, 2019
Some attendees of the 2019 WJC gala: Michael Mirilashvili ($3 billion), Moshe Kantor ($4 billion), Henry Kissinger ($180 million), Ron Lauder ($4 billion), Leonard Lauder ($21 billion), Boris Lozhkin ($500 mill), Baron David de Rothschild & Lord Jacob Rothschild (family net worth estimates range from billions up to $700 trillion.) (Collage by If Americans Knew)

THE WORLD JEWISH CONGRESS GALA BROUGHT OUT THE ZIONIST WING OF THE ILLUMINATI. GEORGE SOROS WAS NOT THERE. HE IS PART OF THE COMMUNIST WING. BUT HE WORKS FOR JACOB ROTHSCHILD WHO WAS THERE, SUGGESTING ROTHSCHILD CONTROLS BOTH COMMUNIST AND ZIONIST WINGS, WHICH CONSIST OF GANGSTERS AND BILLIONAIRES.
MOST ATTENDEES WERE JEWISH EXCEPT FOR A FEW GENTILE GO-FERS.
Billionaires, Russian oligarchs, Ukrainian ambassadors, international financiers, the Rothschilds, and glitterati of all sorts gathered at the 2019 gala for the World Jewish Congress.
The gathering represented unparalleled power & wealth (and not a little corruption)... martialled on behalf of Israel...
by Allison Weir
(henrymakow.com)
The World Jewish Congress (WJC),

which

calls

itself "The Representative Body of over 100 Jewish Communities Worldwide," held its annual

gala

at the Pierre hotel in New York City on Nov. 6.



It bestowed its annual Theodor Herzl Award (named after Israel's founding father) on former U.S. Ambassador to the UN Nikki Haley for her work on behalf of Israel. Some previous awardees have been Joe Biden and Henry Kissinger.
One of the WJC's main issues is support for Israel. Among its many activities in this realm, it collaborates with the Israeli government to defend Israel from criticisms of its human rights abuses and discriminatory system.
The WJC defines many factual statements about Israel to be "antisemitic," and labels legitimate opposition to Israeli violence and oppression against Palestinians "antisemitism." As a result, its top issue, combating "antisemitism," often consists of efforts to suppress information about Israel's oppression of Palestinians and to combat efforts on behalf of Palestinian human rights.
At one of its recent international conferences to oppose this newly defined "antisemitism," US Special Envoy Elan Carr proclaimed that every law enforcement office and every prosecutorial agency throughout the world must "force everybody who has even a hint of antisemitism to undergo a tolerance program."
The Jewish Voice described the recent World Jewish Congress gala in New York:
"It's 6 PM on Wednesday November 6th in New York City and dozens of Secret Service are gathered at the Pierre to protect billionaires, politicians and global influencers at one of the premier evenings of the year."
JV reports that "the illustrious guest list was unparalleled," and provides a lineup that represents extraordinary wealth and power (and, in a number of cases, diverse types of malfeasance).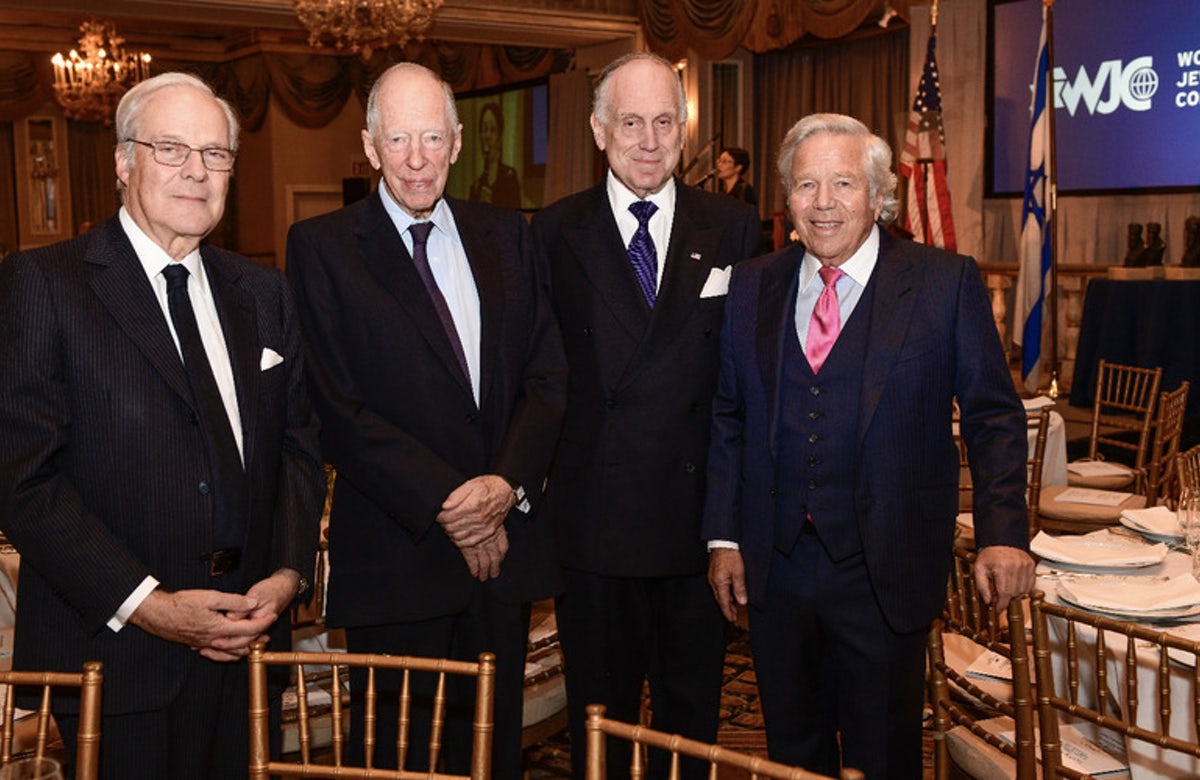 Baron David de Rothschild, Lord Jacob Rothschild, Ronald Lauder, Robert Kraft at WJC Gala Nov 6, 2019.

JV provided the names of some of the guests, to which are appended their net worths when available (these fluctuate over time) and additional information:
Henry Kissinger (net worth $180 million, former Secretary of State and National Security Advisor under two presidents)
The Rothschilds (estimates of net worth range from $400 billion up to $700 trillion, from the famous Rothschild banking family, more information below)
Robert Kraft ($7 billion net worth, NFL Patriots owner, received Israel's Genesis Prize at a lavish ceremony in Israel, where he pledged $20 million to combating anti-Semitism and the Palestinian-led boycott movement against Israel, charged with two counts of soliciting prostitution in Florida -Boston's WBUR radio reports: "The diamond-studded legal guns representing the 78-year-old New England Patriots owner (one of them a former Epstein lawyer) may save him... " meanwhile, the women are facing up to 15 years in prison.)
Thomas J. Tisch (net worth $121 million, former chancellor of Brown University, son of billionaire Laurence Tisch, former CEO of CBS)
Leonard Lauder ($21 billion net worth, elder son of Estee Lauder)
Judy Glickman Lauder (wife of Leonard Lauder, widow of Louis J. Glickman)
The Safras (of the 'sometimes clandestine' banking dynasty that started over a century ago, Chella Safra is WJC Treasurer)
OLIGARCHS FROM RUSSIA AND UKRAINE
Also among "the superpower players who descended on the foyer of the Pierre," JV reports, "were numerous oligarchs from Russia, Ambassadors from Ukraine, and dozens of inner circle investors who rarely venture out to weekday galas."

Among the oligarchs at the event was Kazakh Israeli billionaire Alexander Mashkevitch, net worth $3.6 billion. Israel's Ha'aretz newspaper calls him "one of the biggest oligarchs to have emerged from the former Soviet Union." Mashkevitch is alleged to have ties to organized crime in the U.S. and has been accused of a $55 million money-laundering scheme in Belgium. He has also been investigated for organizing a sex party on a luxury yacht in Turkey. (His daughter was also recently charged with fraud.)

COUNTERING PRO PALESTINIAN MOVEMENT

Mashkevitch is president of the Euro-Asian Jewish Congress (a Regional Affiliate of the WJC) and said to be its "most generous philanthropist."

The Times of Israel reports that the EAJC regularly collaborates with Israel's Ministries of Foreign Affairs and of Strategic Affairs and works "to counteract the Boycott, Divest and Sanctions (BDS) movement" (BDS is founded on the principle that "Palestinians are entitled to the same rights as the rest of humanity). ...



JV does not name the other oligarchs who attended the gala, but a few of the Russian and Ukrainian oligarchs connected to the WJC are:
* Boris Lozhkin - a WJC vice president (net worth appears to be about $450-500 million, President of the Jewish Confederation of Ukraine, on the board of the EAJC, Lozhkin has been accused of corruption in Ukraine, fired as chief economic advisor to the president of Ukraine last year after allegations of fraudulent financial transactions involving millions of dollars came to light)
* Andrey Adamovsky - WJC vice president (Ukrainian businessman, vice-president of the Jewish Confederation of Ukraine, in 2015 was found guilty of defrauding his former business partners of $34.7 million, and in 2016 he was again found guilty of fraud)
* Michael Mirilashvili - on the WJC Steering Committee (Mirilashvili, net worth $3 billion, has been embroiled in various charges of corruption)
Dore Gold (a top Israeli official under Netanyahu & Sharon, born in Connecticut, funded by Sheldon Adelson)
Rabbi Benjamin Goldschmidt (son of the Chief Rabbi of Moscow and the President of the Conference of European Rabbis)
Dr. Ruth Westheimer (sex therapist)
George Klein (a founder of the Congressional Republican Jewish Committee)
Brooke Goldstein (founder of the Lawfare Project, says "there's no such thing as a Palestinian person")
Siggy Flicker (TV personality, Israeli)
Danny Danon (Israeli Ambassador to the U.N.)
Ezra Friedlander (founder of U.S.-Israel Security Alliance, which takes delegations to Israel, CEO of the Friedlander Group, political connector e.g. "NYC's Top Elected Officials Grace Sukkoth Celebration" - video here)
Mark Botnick (assistant to Ron Lauder, former press secretary for New York Mayor Michael Bloomberg)
Michal Grayevsky (senior advisor to Ron Lauder, president of JCS International (JCSI), Lauder's global media company, headquartered in New York)
Justin Hayet (Senior Project Manager, Israel Diaspora Initiatives at the Genesis Philanthropy Group)
Betty Grinstein (wife of founder of Israel's Reut Institute)
Eve Stieglitz (WJC Jewish Diplomatic Corps)
Peter Thoren (works for Leonard Blavatnik - the richest man in the UK in 2015; Blavatnik has numerous connections in Hollywood, is friends with Israeli Prime Minister Benjamin Netanyahu, has been donating to both Republican and Democratic U.S. politicians, including Trump, in June Blavatnik and his wife gave as much money as any other individual donation the Democratic Congressional Campaign Committee has ever received in its entire history; in 2009 he hosted an event for The Atlantic, organized by Editor Jeffrey Goldberg)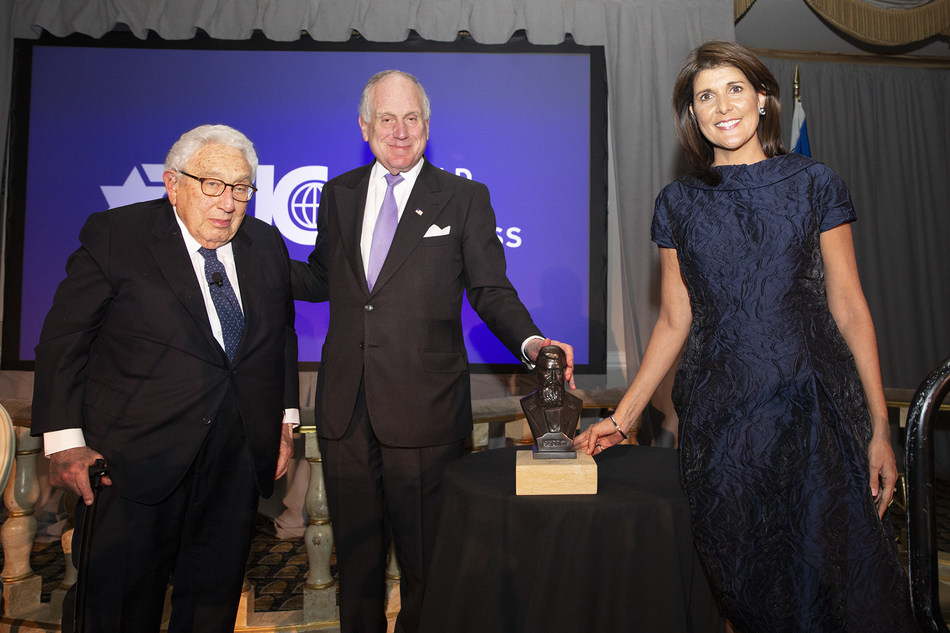 Left- Lauder, Haley, Kissinger (Epstein worked for Lauder)
The longtime president of the WJC is multi-billionaire Ronald Lauder, an heir of the Estée Lauder cosmetics company. At the age of 37 Lauder, a Republican fundraiser sought and succeeded in obtaining a position in the Defense Department (Deputy Assistant Secretary for European and NATO affairs), and then an ambassadorship.
Lauder kicked off the gala's speeches by decrying "the rise in antisemitism," giving as an example Bernie Sanders' recent statements calling the situation in Gaza "inhumane" and declaring that some of the $3.8 billion annual U.S. aid to Israel should go to Gaza instead.
Sanders' speech was a reference to the fact that Israel has made Gaza into "the world's largest open air prison." A Norwegian NGO reports: "More than 50 years of occupation and 10 years of the blockade have made the lives of 1.9 million Palestinians living inside the Gaza Strip unbearable. That is why they now are protesting and risking their lives." (Despite these and previous strong criticisms of Israeli actions, Sanders continues to say he is a supporter of Israel.)
In contrast to Lauder's condemnation of Sanders, he lavished praise on this year's WJC Herzl awardee, former U.S. Ambassador to the UN Nikki Haley.