July 8, 2017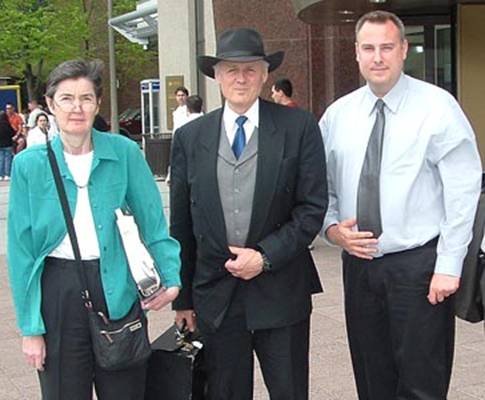 (Barbara left, with Doug Christie & Marc Lemire)
Barbara Kulazska RIP
Canadian free speech lawyer and close associate of Doug Christie, Barbara Kulaszka, passed away at age 64 from lung cancer on June 15. Barbara and the family insisted on secrecy. Even long-time allies were not informed of her death of the funeral on June 19.
Barbara played a key role in research and drafting legal facta in the second Zundel "false news" trial in 1988. She was a huge help in Doug Christie's attack on Canada's war crimes law in the Finta case in 1990. The appeal to the Supreme Court virtually destroyed the law's usefulness to the vengeance lobby as the following of reasonable orders was accepted as a defence.
In later years, Barbara was a vigorous defender of free speechers charged with libel by Richard Warman, people like Marc and Connie Fournier (a long and complicated case) and myself.
She was Marc Lemire's lawyer in his heroic confrontation with the Canadian Human Rights Tribunal. He was prosecuted -- another Richard Warman complaint -- under the notorious Sec . 13 (Internet censorship) which was repealed by Parliament in 2012. Marc's was the first victory -- even if partial -- under Sec. 13. She continued to represent him as the question of the constitutionality of Sec. 13 moved to the Federal Court and then the Federal Court of Appeal in 2013. She also represented Henry Makow in a complaint from the Canadian Jewish Congress to the CHRC.
Barbara had been in delicate health for many years.
She was first trained as a librarian and then switched to law.
She died in her hometown of Brighton, Ontario, surrounded by family.
---
Memorial Event
* Music by Christian Klein, Dieter Kahl and Grace-Eki Oyama
* Tributes by Marc Lemire, Christian Klein, Lynda Mortl, Paul Fromm and others.
* Tributes read from people across the world.
TORONTO. Wednesday, July 12, 2017. Richview Library, Auditorium (1806 Islington Ave, Etobicoke, ON. -- two blocks north of Eglinton (6:15 p.m). **** NEW LOCATION & TIME****Admission $10.00