Canada Gets another Minority Woman GG
August 5, 2005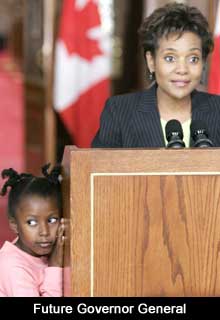 The Governor General of Canada is the Queen's representative and symbolic Head of State. She can dissolve parliament but mainly her role is to represent Canada to the world and to ourselves. After six years of Adrienne Clarkson, a minority woman who worked for the Canadian Broadcasting Corporation, the Prime Minister has appointed Haitian-born Michaelle Jean to succeed her, another minority woman who works for the CBC. Is this the real meaning of diversity?
I have no trouble with minority women being GG. I do have a problem with one following another. It was time for a white male or a white female, or even a black male. (According to the 2001 Census, Blacks, East Indians and Orientals make up just 10% of the population. Prime Minister Paul Martin calls Canada a "nation of minorities" when in fact 85% of Canadians are of European origin.)
Furthermore, in the past, the Governor General was a person who had accomplished something. S/he was a person of authority and distinction. Ms. Jean is an obscure journalist whom Canadians have never heard of. She is the hostess of seldom-watched cable show that airs documentaries.
As recently as 1985, women "of color" were at the bottom of the social status ladder in Canada. Then, social engineers at Tavistock or the Rockefeller Foundation realized they could undermine males and whites at the same time by promoting colored women. Governments, corporations and universities favored them in employment and admissions. What was portrayed as stopping discrimination against colored women became discrimination against whites and males. In 10 short years, they went from maids to managers in public perception. Magically, they shot to the top of the status ladder, trumped only by colored lesbians.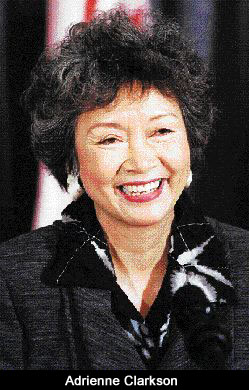 This explains how an obscure black woman can become Governor General of Canada. The way to stop discrimination is to be color-blind, not affirmative acting. Obviously the mantra of equality is a ruse to promote certain groups and repress others. The globalists don't really care about the people they promote. They serve a purpose, to "destroy any collective force capable of challenging us." (Protocols of Zion(5-11)) (A forgery? What would you say if you were caught red-handed?)
Ms. Jean accepted her appointment at a press conference with the familiar mind-numbing lip service: a pledge to make the rights of women, youth, aboriginals and the "disadvantaged" a priority.
"I know that I will put all my convictions and my strength toward defending people who need to be defended in terms of the dignity of women, dignity for freedoms, and dignity for the disadvantaged," Ms. Jean said.
Clearly, the politics of diversity are the politics of division. The Governor General should represent all Canadians, not just the (selectively defined) "disadvantaged." It's their age-old tactic: guilting society so it'll accept anything.
A week later a controversy erupted when it was revealed that Jean and her documentary film-maker husband supported the Quebec separatists in the last referendum. A spokesman for Prime Minister Martin said, "we do not make people crawl on their bellies to prove their loyalty to the nation." No wonder pundit-whores cooed that she was a head-of-state for a "post national era."
(There are also reports she is a dual citizen of France.)
Canada's liberal government is pursuing the racist and sexist Globalist attack on Europeans, males, and European males in particular. It is an attack on the Canada's European heritage and identity.
Ms. Jean's appointment is outrageous and Canadians should block it. It does not truly reflect Canada's diversity and she doesn't merit the position.
----