Does Decline of Grammar Signify Decadence?
October 15, 2015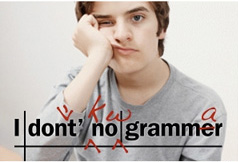 About one in three people who write to me do not use proper sentences.
by Henry Makow, Ph.D.
(From Nov 27, 2013)


A disturbing sign of cultural decline is that more and more people cannot write a proper sentence.
A sentence is the basic unit of written communication. If we learn only one thing in school,
it should be to write a sentence.
Increasingly I am posting submissions and material from other sources. I also post email response. About one in three cannot write a sentence.
A sentence begins with a capital letter and ends with a period. It must contain a noun and a verb, a subject and a predicate. See here.
"The dog (noun) chases (verb) the cat." "The dog" is the subject. "Chases the cat" is the predicate.
Yet I have an acquaintance who somehow attained a Master's Degree in Social Work and cannot write a sentence.
He is engaged in a custody battle and is writing his own affidavits.
"Your inability to write a sentence discredits you," I tell him.
He just laughs and acts like I am an old pedant defending his obsolete turf.
"You sound like one of my old professors," he says.
"I would have flunked you," I say.

He wouldn't appear in court wearing pajamas but thinks nothing of submitting documents that discredit him.
His
children's welfare is at stake. He cannot defend them effectively. Everyone who cannot write is similarly handicapped.
GRAMMAR BECOMING AN ANACHRONISM?
Just as our grip on culture in general is becoming more tenuous, increasingly, English grammar is treated like an anachronism.

The popularity of texting may be a factor. People
think
they can write
like
they talk, in a stream of consciousness.
But this doesn't
explain
why schools don't require English proficiency as a condition of graduation. What else is an education for?
Being able to write a sentence is the equivalent of two plus two equals four. I suspect that a subversive force is behind this cultural disintegration. Flouting the rules of grammar is treated
like another
form of liberation and revolt.
At the same time, the rules for plagiarism are being relaxed and the objectivity of Math is being challenged and fudged.
Ours is a satanic era where the laws of God and nature are distorted and reversed. Why would the rules of grammar be exempt?
ANOTHER EXAMPLE
I posted a powerful article by "Duran" about how young men are being psychologically
destroyed in school.
In that article, Duran's periods were originally all commas and there was little to no capitalization. This talented young man transferred to an all-male private school and graduated with flying colors.
Yet, he still cannot write a sentence, and like my social work friend, doesn't think he needs to. The same applies to some other valued contributors.
I was lucky to attend public high school in Ontario in the 1960's when the rules of writing were drummed into our heads, and we were expected to master a wide range of knowledge: history, geography, sciences, languages, math. My teachers were young, smart and dedicated.
But clearly the education system today is more concerned with grooming youth for gay sex
than equipping them with the skills and knowledge necessary to succeed.
We are witnessing a return to mass illiteracy. The culture is moving away from text and becoming verbal and visual. The hidden agenda is to dumb down the new generation, and to make them ineffectual and easier to control.
Sheep don't need to write. They just need to bleat.
First Comment from HB:

This is a topic that really resonates with me. I worked at a prominent law firm a few years back, and often had to rewrite memorandums and briefs composed by young associates. When graduates from highly respected law schools are unable to write a 2 or 3 page memorandum without multiple spelling and grammatical errors, you know something is amiss.

The worst offenders were African-Americans brought in to satisfy the diversity committee, some of whom were honest-to-God functionally illiterate, but the general decline in standards was evident across the board. Looking beyond the office environment, I see that neither my nephew or niece (aged 16 and 17 respectively) can read or write beyond a sixth grade level.

The eldest will be heading for college next year and I predict that in spite of her deficient language skills, she will graduate with an above-average GPA simply because most colleges are more concerned with boosting enrollment and looking good themselves than imparting actual skills to their hapless students.





---
Comments for "Does Decline of Grammar Signify Decadence?"
---
---
---
---
---
---
---
---
---
---
---
---
---
---
---
---
---
---
---
---
---
---
---
---
---
---
---
---
Henry Makow received his Ph.D. in English Literature from the University of Toronto in 1982. He welcomes your comments at