Are There Any "Good Jews"?
May 12, 2016
In a 15-minute lecture, Allan Brownfeld describes Zionism as "a subversive force" which has corrupted Jewish life in America.
He says the silent majority of US Jews are Americans first and regard Judaism in religious rather than national terms.
There is a tendency in the "Truth Movement" to think all Jews are part of the
satanist Jewish banker conspiracy. Life is simpler if you can say a whole race is congenitally damned and regard exceptions as "gatekeepers." People with grievances often are quick to victimize others.
Most Jews are not Satanists, Communists or Freemasons. While the Jewish leadership does want to supplant God and enslave the goyim, most Jews are not aware of this. It is easier to manipulate people if they don't know the final goal. Would you like to be blamed for American (Zionist) war crimes you had no say in?
Their real fault lies in allowing Organized Jewry speak for them, which Allan Brownfeld addresses in the excerpt below.
Just as Christians or Muslims are not monolithic, Jews are individuals. Many are assimilated and identify with their fellow countrymen. Hopefully, we can refine our analysis to focus our disdain on the perps rather than on the dupes. These perps include practically the whole Gentile leadership who are not Jews but Freemasons (Satanists) empowered by the Cabalist Jewish central banking cartel.
By Alan Brownfeld
(Excerpts by henrymakow.com)
The rise of Nazism and the Holocaust led many Jews to embrace Zionism and support the establishment of a Jewish state. One result, sadly, is that we have seen Judaism increasingly corrupted and politicized. Jewish religious bodies, ranging from Orthodox to Conservative to Reform, have embraced the notion that the State of Israel -- not God -- is, somehow, "central" to Judaism. The center of attention within the organized American Jewish community has not been the traditional Jewish commitment to God and to traditional Jewish moral and ethical values, but something far different. More and more thoughtful Jewish voices, in the U.S. and throughout the world, are increasingly using the term "idolatry" to describe the elevation of the State of Israel to the "central" position in Judaism.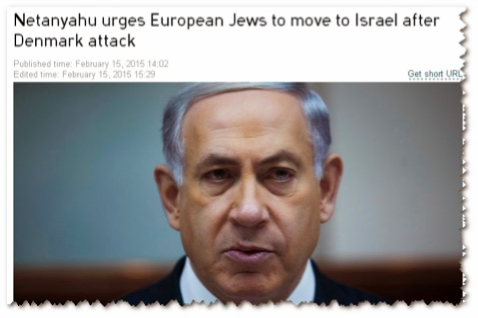 In recent days, Zionism's true nature has been laid bare to the world. Israeli Prime Minister Benjamin Netanyahu, early in February, said that he was not just the prime minister of Israel, but also a "representative of the entire Jewish people."
It is unprecedented for the leader of one country to claim to speak in the name of millions of men and women who are citizens of other countries simply because of a shared religious faith. Even David Ben Gurion, Israel's founding prime minister, agreed that Israel can speak only on behalf of its own citizens "and in no way presume to represent or speak in the name of Jews who are citizens of other countries."
That was 1950. Now in 2015, Benjamin Netanyahu has not only taken it upon himself to speak in the name of all Jews, but has urged Jews to abandon their countries and emigrate to Israel, which, in his view, is their real "homeland."
Thus, in the wake of terrorist attacks in Paris, Netanyahu traveled to France and urged French Jews to flee their country. After a terrorist attack in Copenhagen, Denmark in February, Netanyahu called upon Danish Jews and Jews throughout Europe to abandon their homes and move to Israel.
AT HOME IN EUROPE
If Netanyahu thought he was speaking for all Jews in urging mass emigration, he quickly learned that Jews in France, Denmark and elsewhere were quite at home and rejected the notion that their real "homeland" was Israel. Rabbi Menachem Margolin, director of the European Jewish Association, said that far better than emigration to Israel would be the preservation and protection of Jewish life in the many countries Jews call home.
He regretted that "after every anti-Semitic act in Europe, the Israeli government issues the same statement about the importance of aliyah rather than employ every diplomatic and international means at its disposal to strengthen the safety of Jewish life in Europe. The Israeli government must stop this Pavlovian response every time there is an attack against any Jews in Europe."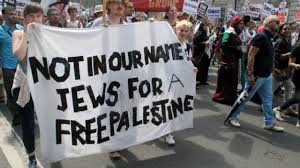 Denmark's Chief Rabbi, Jair Melchior, said he was "disappointed" by Netanyahu's call for immigration. He declared: "If the way we deal with terror is to run somewhere else, we should all run to a desert island. Terror is not a reason to move to Israel." Claude Lanzmann, the widely respected French Jewish film-maker, best known for his Holocaust documentary film "Shoah," said that following Netanyahu's advice would have only one result, giving Hitler, who did his best to rid France and all of Europe of Jews, "a posthumous victory."
In fact, all Benjamin Netanyahu was doing was expressing the basic belief of Zionism, that Jewish life can exist only in Israel and Jews living in France, Denmark or the United States are in "exile."
Uri Avnery, the leader of Israel's peace movement, Gush Shalom, points out that, "The blood of four Jews murdered in the kosher supermarket was not yet dry when Israeli leaders called upon the Jews of France to pack up and come to Israel. Israel, as everybody knows, is the safest place on earth. This was an almost automatic Zionist gut reaction. The basic belief of Zionism is that Jews cannot live anywhere except in the Jewish state, because the victory of anti-Semitism is inevitable everywhere. Let the Jews of America rejoice in their freedom and prosperity -- sooner or later they will come to an end. They are doomed like Jews everywhere outside of Israel. The ... outrage in Paris confirms this basic belief. There was very little commiseration in Israel. Rather a secret sense of triumph. The gut reaction of ordinary Israelis is, 'We told you so!' and 'Come quickly before it's too late.'"
--
Where Zionism would lead was very well understood by its earliest Jewish critics. Perhaps the most articulate spokesman for the early Reform movement, the distinguished rabbi and scholar Abraham Geiger (1810-1874) argued that Judaism developed through an evolutionary process that had begun with God's revelation to the Hebrew prophets. That revelation was progressive; new truth became available to every generation. The underlying and unchangeable essence of Judaism was its morality. The core of Judaism was ethical monotheism. The Jewish people were a religious community, destined to carry on the mission to "serve as a light to the nations," to bear witness to God and his moral law. The dispersion of the Jews was not a punishment for their sins, but a part of God's plan whereby they were to disseminate the universal message of ethical monotheism. Rabbi Geiger deleted all prayers about a return to Zion in a Reform prayer book he edited in 1854.
--