Half of US Foster Care Children are Drugged
May 10, 2013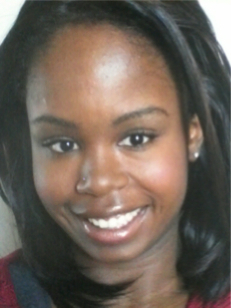 .
(left, Ciara Jackson, 23)

"
The first medication I took was Haldol. I had never been Bipolar in my life and had someone taken the time to listen to me, and answer my questions adequately, I would have been fine. Little did I know my diagnoses would do all the speaking for me. My voice was left unheard.
"
There are
more than 400,000 children
in foster care in the US. More than half are medicated. Ciara Jackson pleads for government to stop medicating "wards of the state" like herself.
"
A Voice Silenced"
By Ciara Jackson
(henrymakow.com)
Child Protective Services
in the US is a Federal Agency. Each state has a branch of their own. In Colorado, its called
Department of Human Services
and pretends to help children, but almost every department has become corrupt.
Being a child in DHS, I became a ward of the state, once my mother had her rights relinquished. My family didn't fight to get me out. My grandma did.
When she saw what the system was doing to me, she began to give me money to run away to her house. She rather me run away to her house, then be out somewhere and have no clue where I was. When I got to her house, she would tell my case manager from the Department of Human Services that I was with her. I was not a fugitive. Give me a few days and then come and get me. My case manager did what she could.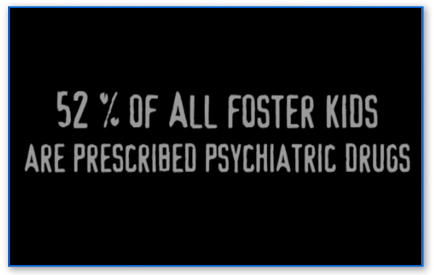 It got so bad where I was. I was in places where they would drug the children. More than half of the children are medicated to control the child. I was personally diagnosed
Bipolar/ not otherwise specified
. At the time I was diagnosed, I had been abandoned by my parents not once but three times, I was going through puberty and no one wanted me. It's natural for a normal child to act out when becoming a teenager. It happens all the time. Now imagine that plus being giving up by your family. You can understand why I acted out.
The Department of Human Services put me in a Detention Facility because a foster home said I had ran away. Not that I actually ran away, but that was their way of getting me out of their house because the mother and I didn't get along.
Truth is, I never ran away. I had just moved to Colorado that summer and lived in literally one area. This was my first experience of being a runaway and was sent to spend a week in The Filmore Detention Facility. From there I was sent to a "treatment facility." A treatment facility is designed to rehabilitate children.
This is where they stick from 20 to 500 or more children of all different backgrounds. In some places, I lived with children who were labeled as sex offenders; children who have been molested by their parents; children who were already having sex with random men on the streets; children who were in gangs, the list goes on and on. These were things I had never experienced in my life. I was still into playing in the park and riding bikes. The majority of these children grew up fast, way too fast.
In the places, they have staff members who are put into certain roles in authority. I have seen staff members who would sleep with the girls; staff members who would become emotionally or mentally abusive towards the children. I would see staff who are now homeless or on drugs. I would see staff who would abuse their power. I would see staff who are genuinely good people.
The treatment facility is often tied to a psychiatrist. These so-called psychiatrists are there to dope the children. By doing this, they need to come up with a diagnoses for the child, but a lot of the time, the false-diagnose the child and put them on drugs. I was a child they could not control. I asked way too many questions and when things did not make sense, I questioned them more. There were times when I would ask to sit in my court proceedings and because I was only 13, the social workers would tell me I am not old enough. I would ask to see my files but according to the social workers I was too young.
I was a child beyond my time. Too young to ask questions but old enough to have them. I figured my questions should be answered because they pertained to me.
The more I got told no, and the more these so-called professionals refused to answer my questions, I began to act out. I was taken away from my family, held in a lock down facility like a prisoner. No more going to take a walk to the store, or playing in the creek. No more staying up all night with my cousins, no more being a normal teenager and no one would explain why. In 2003, Denver Health diagnosed me with being Bipolar (Not otherwise Specified).
MEDICATED JOURNEY
The first medication I took was Haldol. I had never been Bipolar in my life and had someone taken the time to listen to me, and answer my questions adequately, I would have been fine. Little did I know my diagnoses would do all the speaking for me. My voice was left unheard.
Years passed with me on all types of medications. I gained weight, lost weight. When people saw me they would say, that with my medication I was doing so well. When really I felt isolated, ignored, and grew angrier with the system as time went by.

I always believed that there is a way to help children cope with their problems without the use of medication, if they can at least think and do things for themselves. Injecting their bodies with chemicals is not the way to teach someone how to become self-sufficient, because when the drugs run out, then what?
The entire time I was in the system, I battled and refused to take medication after I realized the symptoms I was having. I was always drooling, I was so slow mentally and physically. I had went from wearing a size 5 in juniors to a size 18. The more I refused the drug, the more defiant social services labeled me and the angrier I became.
I finally gotten to an age where I could emancipate. I continued to refuse the medication. This is a time when my diagnoses changed. I was no longer Bipolar; I had "a mood disorder." If you had been in my surroundings and seen the things that I witnessed, your moods would change rapidly too.
From the time I was 13 until 17, I had no choice but to be surrounded by inconsistency and instability.
When I emancipated, my last caseworker told me to sue the County of Denver because they false diagnosed me with being Bipolar all those years. To me, being emancipated was enough. I would never have to deal with those people again. I stopped taking the medication, and am now a college student, a civilized adult with friends and family who genuinely love me.
I still have stretch marks on my arms from being given medication, and the battle wounds of all the things I went through in the Department of Human Services, but I was determined to prove to them that their diagnoses of me was wrong, and I have.
-----
Related:
"
Psychotropic drugs,
SSRIs, a frequently prescribed class of medications, generates close to 200 million prescriptions in the United States that approaches a cost of 20 billion dollars a year.
" - Dan Abshear - former drug rep