Eloquent New Voice Sounds Alarm
October 14, 2015
by Henry Makow Ph.D.
Mollycoddled and deceived by the media, Westerners are complacent. They don't realize that we are on a course to world war. Ukraine and Syria are already proxy wars that could easily escalate into direct Russian-American confrontations.

(Chabad leader, Menahem Schneerson, 1902-1994)
Irene Caesar, a Russian philosopher and specialist in "the struggle of ideologies" doesn't have any illusions about the true Cabalist Jewish character of this war. Enslavement and genocide is in the Talmudic Jewish DNA, she says. "We are the Chosen People. The goyim are animals who must serve us."
World events can be understood in terms of the longterm Talmudic Jewish plan to enslave the human race. Talmudic Jews and their Masonic Gentile allies (Satanists) have taken control of the West and are waging a war against the White race and Christianity which they regard as their main competition. Their goal is white genocide. First cultural genocide, then physical. Whites, who represent only 8% of the world population are an endangered species.
This may seem farfetched but it does explain current events. The whole thing boils down to a conflict over a "multipolar" world which Russia and China want, and a "unipolar" world which really amounts to satanic Jewish hegemony masked as American/EU imperialism.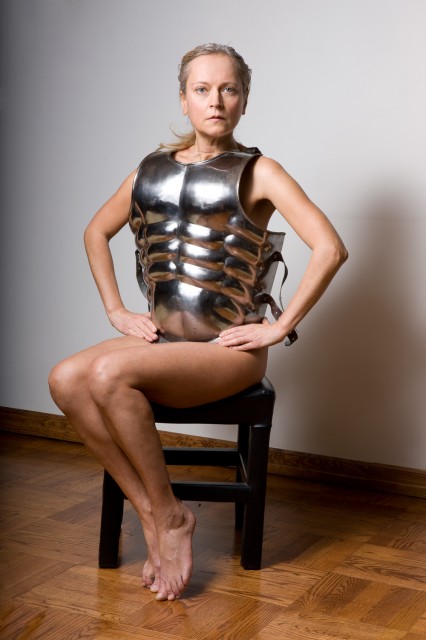 (Caesar, in one of her art installations, as Joan of Arc)
It explains the welcome millions of migrants flooding the US and Europe receive, in order to destroy racial and cultural homogeneity. It explains the relentless attack on Christian cultural values, especially marriage and family, via a war on gender, the bedrock of heterosexual identity. This psychological attack is seen in the
bizarre promotion of feminism, homosexuality, pedophilia and transgenderism.
It explains why Netanyahu is provoking the Palestinian people to rise up with knives as a pretext to their genocide.
Caesar says the coup d'etat in Ukraine is intended to re-establish the true Jewish homeland of Khazaria and serve as a bridgehead to Russia, which is the protector of a sane multipolar world where no one dominates anyone. Putin follows the "holographic principle where every matrix is unique and sovereign."
She says Russia has always been the motherland, fount and protector of the Aryan race. But Russia does not practice genocide like the Khazarian Jews. Russia has 100 different nations living within her borders.
She says Putin is the "number one target" of Satanist Jews, like Henry Kissinger and Victoria Nuland who studied Talmud for hours every day as children. Their greatest fear is that Germans and Russian will unite to resist their subjugation. She believes Putin is sincere. He started as their ally but was betrayed countless times and "no one can forgive betrayal."
Hitler, on the other hand, was a Zionist agent responsible for the "real holocaust," the murder of 30 million Russians and 10 million Germans. She says the ideology of Zionism and Nazism are identical: racial superiority, genocide and globalist slavery.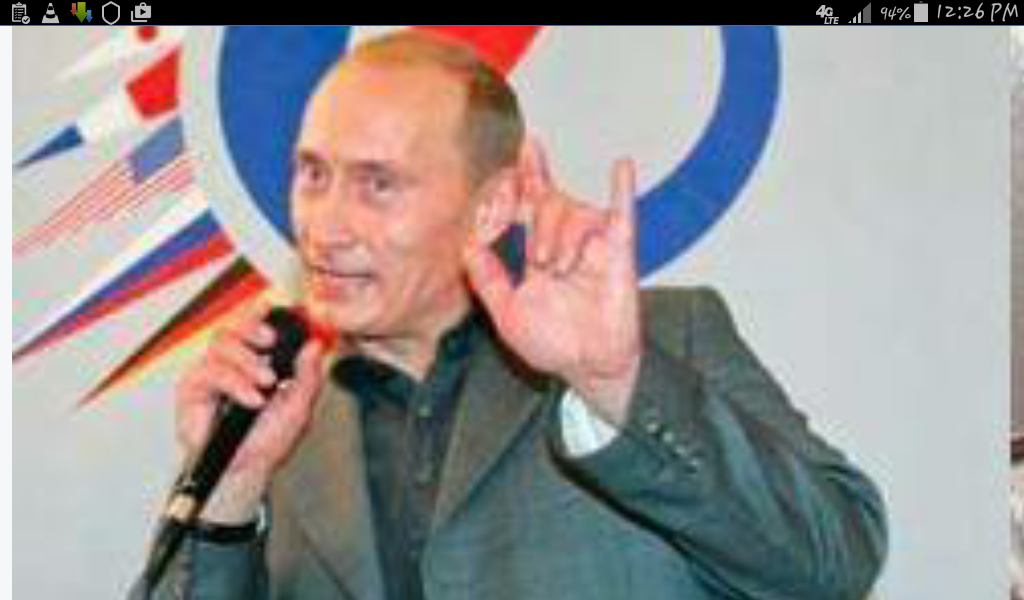 I agree with Caesar's analysis although I still have some qualms about Putin. (Some of those photos of Masonic handshakes and signs look quite recent.)
However, I withhold judgment on her more outlandish claims. For example, she believes Russia has miraculous "quantum leap" technology that is a panacea for mankind, solving disease and poverty, as well as teleportation! She claims the Masonic Jews are determined to stifle and seize control of this technology.
In conclusion, Westerners are oblivious to the malignant force that has seized control of their societies. We are talking about Cabalist Jews (especially Chabad, Hasidim) Zionism, organized jewry, and non-Jewish Freemasonry. Before it is too late, ordinary Jews, Christians and society in general must face the unsavoury fact that Judaism (which is defined by Cabala/Talmud) is Satanism.
We must heed Irene Caesar's message, to "wake up" or perish.
Note from Alex Gottwald:
First Comment by Glen. (Makow. Satanist Jews are a liability to all other Jews. Judaism is a satanic secret society like Freemasonry, which is based on Judaism. This means only the "initiated" know the real diabolical agenda. The "uninitiated" are expendable unless they can be manipulated and used.)
Glen: All one needs to do is have a look at the list of country's the Jews have been kicked out of throughout the ages to realize Irene speaks the truth. She is not some tin foil hat wearing wack-o spreading hate and discontent. Why would so many nations decide these parasites on humanity must go. The answer can only be they(the Jews) were detrimental to the nation and local populations they were sucking off of. Here is a list of the countries the Jews have been evicted from. You decide if maybe there is a problem with these folks.
YEAR . . . . . . . . . . . . . . . . . . . . . .PLACE
250 -- - - - - - - - - - - - - - - - Carthage
415 -- - - - - - - - - - - - - - - - Alexandria
554 -- - - - - - - - - - - - - - - - Diocèse of Clermont (France)
Dan writes:
She starts off saying Russia has 'a technology' that's 'a quantum leap' ahead of the EU and US. She said " You have to know that our ancestors already had this technology. The memory of this technology is stored in our genome."

As I waited for her to describe this technology, I eventually realized she seems to mean it's a force encoded in Caucasian genes. Something like the Vril myth of the Thule Society, or "the Spice" in Frank Herbert's DUNE novels.
But hold on, she keeps talking about the white race, but she says "We Russians have it in its most advanced form."
Here I must explain that Irene's theory of the origin of white people is different from Nazi Ariosophy. Nazi doctrine held that the white descended from a pure Aryan super race that landed in the Himalayas after the cataclysmic sinking of Atlantis.
Her race suppositions derive from late 18th century Caucasian theory. We're still called "Caucasians' due British Royal Society acceptance of the theory of German philosopher Christoph Meiners in his 'The Outline of History of Mankind' (1785). He propose there are only two major races - Caucasian and Mongoloid.
Caucasians originated in the Caucasus region around the Black Sea (Armenia, Azerbaijan and Georgia). Irene considers the Caucasus to be part of Russia, as Russian nationalists do.
So she's saying that the White people had a powerful technology in a distant, mythic past. Here's a quote from much later in the interview: "My blood is more royal than that of the British Queen. My ancestors were flying Vimanas, When England what quietly lying under the ice." (Vimāna is a mythological flying palace or chariot described in Hindu texts and Sanskrit epics.) This is relevant because it goes to credibility of her other assertions.
She continued; "Based upon the idea of ​​the racial superiority of Germans, Hitler called for the extermination of Slavs. The very idea of ​​racial superiority is a Talmudic idea. THUS, Hitler Introduced into our culture the genocidal ideas of negroes from the Tribe of Seth in the Land of Seth....Nazism is the rejection of all other nations, and, THUS, is not about the very notion of nation, but is about domination and slavery."
She continues, "As regards Cossacks who were fighting for Hitler against Russians .... They were fooled. I am a Cossack, from the ancient Cossack (Kazak) family. On my mother's side, my family originates from the marriage of the Cossack Ataman and Byzantine Princess. My blood is more royal than that of the British Queen. My ancestors were flying Vimanas*, When England what quietly lying under the ice. And my family what fighting Hitler, and all other kinds of Talmudists over the history of our nation. We destroyed the 10th century in Khazaria. And we will destroy the global Zion as the one-world Khazaria again."
I have nothing against Irene, I understand that her family lost many innocent ancestors from the especial viciousness of Hitler's Barbarossa Blitzkrieg. However, her own racial theory seems to me as flawed as Hitler's. Some of Hitler's general staff questioned the policy. Had the Germans come as liberators instead of exterminators, a lot of Slavs and Russians would have welcomed them.
Ultimately, I believe Hitler's Lebensraum goal required the indigenous population of Belarus to disappear. Jews deported from the West would be sterilized and worked to death, to make room for German population growth. That seems to be real history.