Pink Cancer Psyop Invades Boys Football
September 11, 2013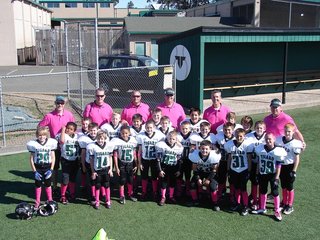 A Colorado mother expresses frustration
that her sons are being feminized under
the pretext of supporting breast cancer research.

"I simply don't see why I need to drape my sons in pink and burden them with this very dark and sad marketing campaign during a youth football game. People need to stop using children as their billboards."


by Sarah Gibson
(henrymakow.com) I am a mom of 2 sons age eight and ten who play football.
We just pulled our two sons out of Pop Warner football in Colorado because three of the team moms were forcing the coaches to order pink socks, wristbands and then requiring the boys to wear them for the whole month of October.
That is HALF of the season ....the uniforms would be altered to promote their agenda for breast cancer awareness. These are 8 year old boys !!!!!! Really ???
(left, "I got my start in the alternative lifestyle when my mommy let me play Pink Warmer football.)
When we parents told the coaches we felt it was not appropriate, we were attacked verbally for hours via email by these other team moms.
The Pink Movement is a true political agenda with a powerful lobby and everyone has been forced to drink Pink Kool-Aid.
Very, very sad... it has now entered youth sports .
We currently have a family member fighting cancer and my mother in-law is a survivor of breast cancer. However, I simply don't see why I need to drape my sons in pink and burden them with this very dark and sad marketing campaign during a youth football game. People need to stop using children as their billboards.
They claim the agenda is simply to have the boys wear pink.... to make everyone aware of breast cancer.... I guess so people will feel badly and be compelled to donate or ... I don't know... run and get mammograms?
PINKO CAMPAIGN OF ABUSE
After I stated in an email to the coaches that I felt it was inappropriate to coerce eight year old boys to wear pink to promote someone else's agenda, I was emailed for hours by nearly all of the other parents from the team and told I was pure evil, wholly uninformed, and very narrow-minded. They questioned how as a women with family members who have been through breast cancer... how could I "NOT" want to make my sons wear pink??
I tried to reason with them.... But they treated this pink movement like their "religion" and I was attacking their religion. So after hours of emails... I finally just decided to remove my sons from this program and I asked to be removed from the mailing list . My husband who is one of the Asst Coaches for this Pop Warner team went and turned in the equipment and said he won't be volunteering any longer. We simply won't continue with this Pop Warner Program after what we just witnessed. It was bizarre to say the least.
Both my sons felt very embarrassed to have to wear pink, especially during football games. It is a sad commentary on how powerful the Pink Movement has become.
I am not necessarily looking to force anyone else to accept my viewpoint .... Instead I am simply trying to shed light on how this kind of activism just caused us to be truly alienated from a youth football program.... People can see that the pink movement is now targeting young boys and their football programs.
---
Makow comment
- This is another Illuminati ruse designed to feminize boys and men, and divide and conquer, just like homosexual promotion in general. Breast cancer research is also a major profit center for the Rockefellers.
Related
- Makow -
Pinkos Invade Last Male Bastion- Football
--------
Social Engineering Tied to Sports
--------
Politicization of Sports - Redskins Name
The Invasion (Thanks Dan):
'Now is the window': RGIII says the time is right for gay football players to come out publicly
http://www.dailymail.co.uk/news/article-2393732/Robert-Griffin-III-says-time-right-gay-football-players-come-publicly.html

Young Straight Football Players More Likely to Accept Gay Teammate: Study
http://www.towleroad.com/2013/09/young-gay-footballers-that-is-soccer-players-outside-of-canada-and-the-us-are-more-likely-to-be-well-received-by-their.html
Gay Agenda invades Tennis
http://www.youtube.com/watch?v=CDnFK7v4kGs
I include this last link as a 'reality test' .
(Satire)
Peyton Manning Comes Out As Gay For Football
http://www.theonion.com/articles/peyton-manning-comes-out-as-gay-for-football,32037/
First Comment from Jennifer:
Hello! I read the article on Pink Psyop in Football. My son is 12 and is refusing to wear the pink. I am going through the same thing as the Colorado mom. My husband is deployed and he tells my son he is the man of the house when he's gone. My son is very responsible, gets good grades and takes care of his little brother. I will not force him to wear it. These team mom's are out of control. Who are they to tell him he is not a tough guy AKA real man if he doesn't wear pink. IT'S SICKENING! Two weeks into the season, the team mom's emailed stating that they are taking half of the snack money turned in by parents, to buy pink socks to be worn the entire month of October (half the season). I told him I support him in his decision. He says if he shows up to every game in his black (issued) socks and they don't let him play, then they don't respect him and will accept it. Now that's a little man of conviction right there. I just hate the animosity and dirty looks from the coaches and team mom's. So far none of his team mates are bothered by his decision! He says there are other boys that don't want to wear it, I wish more parents would get a backbone and speak up!
- Jennifer
Second Comment from Jim: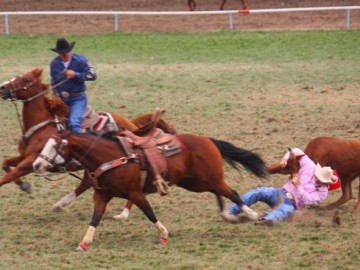 Tomorrow is "Tough Enough To Wear Pink" day at the Pendleton Round Up.
The Pendleton Round Up is one of the most respected rodeos in North America but probably not so much anymore.
http://www.pendletonroundup.com/events_detail.aspx?id=55
Below you will find a pic of a cowboy at the Pendleton Round Up wearing a pink shirt bulldogging a steer
---
Comments for "Pink Cancer Psyop Invades Boys Football "
---
---
---
---
---
---
---
---
---
Henry Makow received his Ph.D. in English Literature from the University of Toronto in 1982. He welcomes your comments at